Posted by
admin
on Aug 17, 2010 in
News Reports
|
Comments Off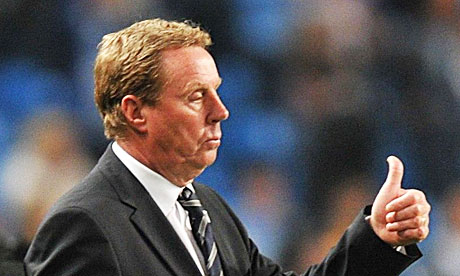 Tottenham Hotspur manager Harry Redknapp insists that it will not be a major blow if his side fail to make it through to the group stage of the Champions League.
Expectations have been sky high in north London following last season's landmark top four finish — which now sees Spurs take on Swiss club Young Boys as they bid to qualify for the Champions League group stages.
However, Redknapp's men have not competed among Europe's elite in almost 50 years, which makes them a relatively unknown quantity in the continental arena.
When quizzed as to how it would be if his side were to bow out at this stage, the gaffer told reporters: "What can it mean? What are we going to do – commit suicide or something? What are we supposed to do?"
He added: "Listening to everybody, we'll end up hanging ourselves.
"All you can ever do is your best. If we play at our best, we've got a great chance."
However, the monetary benefits associated with participating in the Champions League make the encounter a precious one, as a group stage appearance would line their pockets of the club with a significant amount of money.
The former Portsmouth boss remains positive ahead of the tie, hoping that his side will make it through to the play-offs.
"People's expectations get very high but I don't think about not qualifying," he said.
"It'll be a difficult game, but we're a good team and I've got great belief in the team."
The ex-West Ham United boss also conceded that his own first steps navigating through Champions League waters would be shadowed by the players' enthusiasm about playing in the most prestigious club competition on the continent.
"It's the players, isn't it?" he said.
"I'm just part of the team and it's what they do. They go out and play on Saturday.
"The way we play the game, I love being involved with this team."
Share