Posted by
admin
on Aug 26, 2010 in
News Reports
|
0 comments
Harry Redknapp said he would only celebrate with a 'bacon sandwich and a mug of tea' after Tottenham reached the group stage of the Champions League.
The Spurs boss banned his players from celebrating as their attention now moves to Saturday's Premier League clash with Wigan and he was hoping to slope off home without going to the boardroom.
Staying focused: Redknapp isn't getting carried away by Tottenham's success
And, as he became the first Englishman to manage a team in the Champions League group stage since Sir Bobby Robson, Redknapp had a dig at those who suggest England is devoid of managerial talent.
'There is a lot of talent, despite what people think,' he said. 'We're not all idiots. People think I don't understand football because I don't have a posh accent. I've worked hard to be where I am and there are others who aren't as lucky who will hopefully get the chance. When I came here the dream was to get into the group stages and we've achieved that so that is something to look forward to. It was a good night for Tottenham. I watched the games against Gornik and Benfica (in 1961-62) and the place was jumping. To bring that atmosphere back was fantastic.
'Tottenham underachieved for a long time and I thought the potential was there. Eight or nine of the players were here when I came – it's not like I went out and bought a new team.
'It was about confidence and changing their attitude in some cases. They've responded and finished fourth last season.
Share
Posted by
admin
on Aug 24, 2010 in
News Reports
|
Comments Off
Spurs trail Swiss side Young Boys 3-2 going into the home leg of their play-off, but if they can turn the tie around and reach the group stages the club will bank at least £10 million plus TV revenue.
That may persuade chairman Daniel Levy to loosen the purse strings and invest further in the squad. But Spurs boss Redknapp insists money is not everything.
'I don't think about the money,' he said. 'It would be a great honour to get into the Champions League group stages. It'd be fantastic to bring that to White Hart Lane.'
If he succeeds, Redknapp will join a small band of Englishmen to have managed in the Champions League but the former Bournemouth, West Ham and Portsmouth boss refused to call tonight's game the biggest of his career.
'I've had loads of games like that; relegation games, promotion games,' he said. Tottenham's injury problems have eased with strikers Roman Pavlyuchenko and Robbie Keane plus midfielder Giovani dos Santos all fit. Jermain Defoe can also play tonight but will undergo groin surgery next week.
Luka Modric and William Gallas are unavailable tonight while Redknapp confirmed long-term absentee Jonathan Woodgate will have one final groin operation in a bid to save his career.
Meanwhile, Redknapp denied he would swap Peter Crouch for Everton's Steven Pienaar and played down his chances of tempting Lassana Diarra from Real Madrid.
'He's on big, big wages,' said Redknapp, who revealed Diarra's agent had been in contact with Spurs' chief scout.
Share
Posted by
admin
on Aug 17, 2010 in
News Reports
|
Comments Off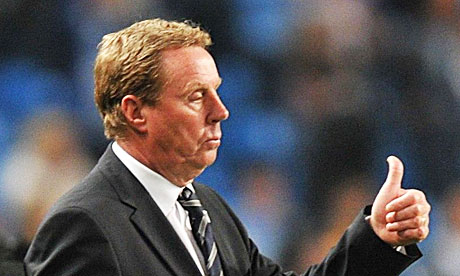 Tottenham Hotspur manager Harry Redknapp insists that it will not be a major blow if his side fail to make it through to the group stage of the Champions League.
Expectations have been sky high in north London following last season's landmark top four finish — which now sees Spurs take on Swiss club Young Boys as they bid to qualify for the Champions League group stages.
However, Redknapp's men have not competed among Europe's elite in almost 50 years, which makes them a relatively unknown quantity in the continental arena.
When quizzed as to how it would be if his side were to bow out at this stage, the gaffer told reporters: "What can it mean? What are we going to do – commit suicide or something? What are we supposed to do?"
He added: "Listening to everybody, we'll end up hanging ourselves.
"All you can ever do is your best. If we play at our best, we've got a great chance."
However, the monetary benefits associated with participating in the Champions League make the encounter a precious one, as a group stage appearance would line their pockets of the club with a significant amount of money.
The former Portsmouth boss remains positive ahead of the tie, hoping that his side will make it through to the play-offs.
"People's expectations get very high but I don't think about not qualifying," he said.
"It'll be a difficult game, but we're a good team and I've got great belief in the team."
The ex-West Ham United boss also conceded that his own first steps navigating through Champions League waters would be shadowed by the players' enthusiasm about playing in the most prestigious club competition on the continent.
"It's the players, isn't it?" he said.
"I'm just part of the team and it's what they do. They go out and play on Saturday.
"The way we play the game, I love being involved with this team."
Share